Steam Simon – a steampunk style memory game is released!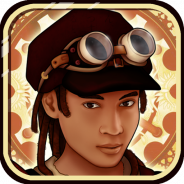 Our newest game – Steam Simon will be a joy to your eyes and senses! Detailed steampunk style graphics will immerse you into the memory challenge! Memorize the sequences shown on screen and improve your memory skills. Gain coins for passing game levels and assemble your own steampunk robot! Click HERE to play the game.
If you enjoy playing games on your desktop, you may find Steam Simon at Chrome Store.
If you prefer to have fun on your tablet or smartphone, enter this link in your mobile device: http://m.bushidogames.com/en-gb//games/steamsimon/en-gb/

Game features:
STEAMPUNK STYLE MEMORY GAME
Fantastic steampunk graphics will drag you into the challenge!
EASY TO PLAY BUT HARD TO MASTER
Stay focused, memorize the sequences and play them from memory!
COLLECT PARTS AND BUILD A STEAMPUNK ROBOT!
Earn game coins for good results and assemble your own steampunk robot!